The Sands of Mata Nui
MOKONUI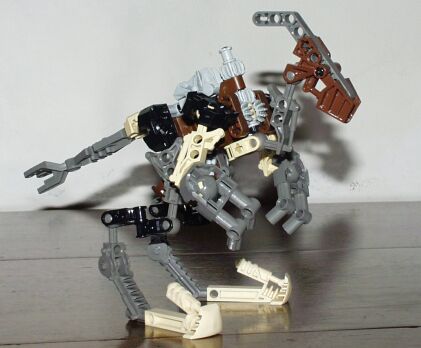 The fleet-footed Mokonui is rarely glimpsed for more than a moment. Although large and quite strong, these solitary creatures of the desert are so skittish by nature that the sight of a lone villager - or even another Mokonui - is usually provocation enough to send them bounding rapidly away across the dunes with a warbling trumpet.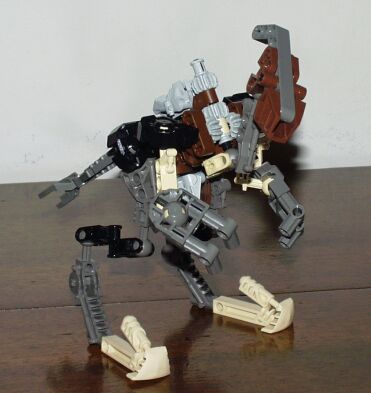 Mokonui can travel for many days without food or water, a necessity of survival for a large desert herbivore. With their keen senses of smell and hearing, they excel at finding patches of sparse desert scrub. These tiny oases are the only locations where a Mokonui will ever tolerate the proximity of other beasts, for food is so scarce in the Po-Wahi wasteland that they simply cannot afford to flee and abandon a precious meal.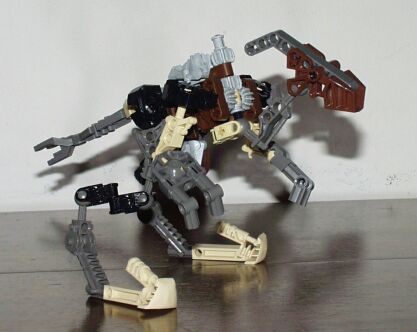 When sustenance lies buried beneath the desert sands, Mokonui prove to be excellent diggers, using their stout forearms and large, blunted claws to reach desperately-needed water and vegetation. Attached to a more aggressive creature, the Mokonui's powerful claws and feet would be a deadly combination, but the pouched and crested leaper is so skilled at avoiding danger that it will almost never need to strike a blow.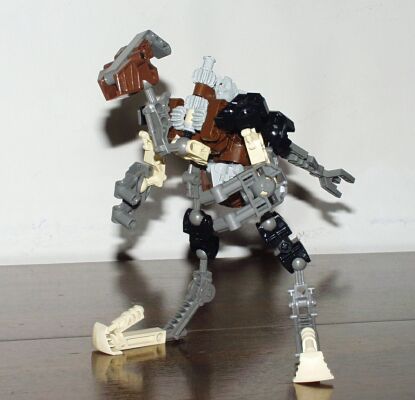 As sunset approaches, a Mokonui will seek out an outcropping of rock and dig a shallow burrow at its base. Nestled there in the shadow of the stone, the Mokonui passes the night in restless slumber, always wary for the slightest sound or scent of danger to send it bounding away once more.
.
.
.
.
.
.
Page design, layout, and contents are by Clockwork Penguin Productions, and are not to be copied or linked to without express permission from CPP.

LEGOŽ is a trademark of the LEGOŽ company, which does not sponsor, authorize or endorse this site.
This site is not intended to be an infringement on any of the copyrights and trademarks of any company whose products or characters are mentioned within its contents. The Berry Market is for entertainment purposes only, and is an entirely non-profit operation.
Backgrounds courtesy of System F. Penguin-headed smilies courtesy of Miwa's Farm.





.
.
.